PATENT DESIGN
This series adopt Non-screw design,Tuyere adopts black and white family creative mold shape of Power World,and carry 3D structural software simulation to create a strong and reliable body.With Unique air flow technology,it leads to most silent ventilation.

Intelligent Full Inverter Control System
The intelligent full inverter control system with three modes:Smart Mode,Powerful Mode,Silent Mode.


High-efficiency hydrophilic coating golden aluminum foil fin heat exchanger
Flat fins with open windows have good heat exchange effect and good drainage effect during defrosting;The golden anti-corrosion hydrophilic coating ensures that it is not easy to form frost during heating operation
in winter, and greatly improves the salt spray and oxidation resistance of the equipment.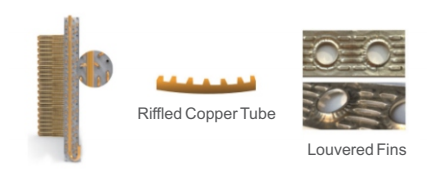 Multiple noise reduction technology design
Appropriate wind field flow channel design, noise reduction treatment for compressors, cabinets, etc. in a variety of ways such as elimination, isolation, and suction. There is a damping block on the copper pipe to reduce vibration and improve the reliability of the unit.


Save Energy And Speed Up Heating Time

With short heating time,users don't need to wait for a long time to enjoy swimming. In the meanwhile,it saves more energy than ON/OFF heat pump and non Full inverter heat pump.