Advanced Technlogy: Full DC Inverter
Power World full DC inverter technology enables the heat pumps to adjust its power from 10% to 90%. With this technology, Power World Cubic Series can not only reduce 50% power consumption on average, but reach COP as high as 16.2 at Air 26℃/ Water 26 ℃/ Humidity 80%.

Detail-Oriented: Patented Design
Power World Cubic Series adopts patented design, with hidden screws and unique grills. The modern design not only creates a sense of wholeness, but also greatly integrated with the garden surroundings.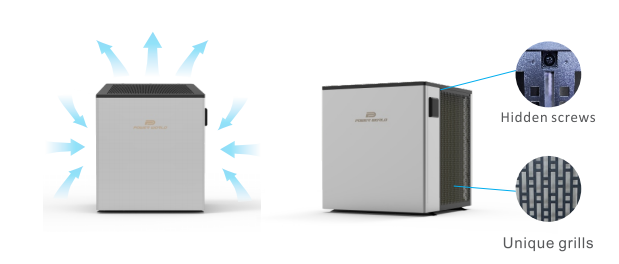 Ultra Silent Running: 18 dB(A) at 10m distance.
Thanks to the twin-rotary compressor and unique structure design, the running noise of Cubic series is as low as 18 dB(A) at 10m distance. It's pretty suitable for use at night, and brings more harmonious neighborhood relationship.

Intelligent Living: App Remote Control
Your life may lose control sometimes, but your pool temperature is always at your fingertips. A smart app brings an easy access to your pool temperature anytime and anywhere. Go! Get your pool preheated and embrace deep relaxation after a tiring day.